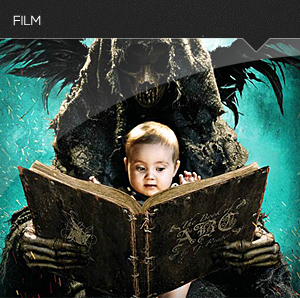 Nu fik jeg endelig set The ABC's of Death over VOD. Sikken en måbende og sindssyg omgang af en 26 retters gourmet menu, der ikke er for vegetarer…
Hvert instruktør fik en pose penge på omkring $5000, tildelt et bogstav fra alfabetet ud fra deres top 3 af bogstaver. Alle instruktørerne fik frie tøjler til at skabe en historie, der involverer død. Der var kun nogle få regler: Filmene skulle være omkring fire minutter lange, start og slutningen af kapitlet skulle starte og slutte med en rødt billede, og der skulle være mindst et dødsfald. Der blev valgt i alt 25 forskellige instruktører (hvis man tæller de 2 Co-instruktører fra), hvor den 26. blev valgt ud fra en konkurrence.
Apocalypse: Nacho Vigalondo
Bigfoot: Adrián García Bogliano
Cycle: Ernesto Díaz Espinoza
Dogfight: Marcel Sarmiento
Exterminate: Angela Bettis
Fart: Noboru Iguchi
Gravity: Andrew Traucki
Hyrdo-Electric Diffusion: Thomas Cappelen Malling
Ingrown: Jorge Michel Grau
Jidai-geki: Yudai Yamaguchi
Klutz: Anders Morgenthaler
Libido: Timo Tjahjanto
Miscarriage: Ti West
Nuptials: Banjong Pisanthanakun
Orgasm: Bruno Forzani og Hélène Cattet
Pressure: Simon Rumley
Quack: Adam Wingard og Simon Barrett
Removed: Srdjan Spasojevic
Speed: Jake West
Toilet: Lee Hardcastle
Unearthed: Ben Wheatley
Vagitus: Kaare Andrews
WTF?: Jon Schnepp
XXL: Xavier Gens
Youngbuck: Jason Eisener
Zetsumetsu: Yoshihiro Nishimura
Efter en kort ABC intro følger vi alfabetet slavisk fra start til slut. Den første starter hårdt ud med en kone, der hurtigt bevæger sig ind i soveværelset med en køkkenkniv for at lemlæste hendes mand der ligger i sengen. Det er ikke nok med at splitte mandens hånd i halv og stikke kniven i halsen, hun tager den rygende varme stegepande med olie og smider det lige i fjæset på manden. Oveni hatten dasker hun ham med stegepanden for at afslutte det. Dette er ikke første forsøg. Billedet går over i rødt og bogstavet A kommer frem med ordet Apocalypse (Nacho Vigalondo).
Hurtigt og "smerte-frit" fortsætter filmen med det næste afsnit. Med sine 2 timer og 3 minutter føles filmen ikke langtrukket, selvom kvaliteten og stilen for hvert afsnit varierer meget. Det skal forstås at der er noget for enhver smag, lige fra exploitation og gore til tegnefilm og stop-motion. Også filmreferencer, bl.a. til Dr. Strangelove or: How I Learned to Stop Worrying and Love the Bomb – i en vandvittig japansk gore udgave! Ja der vises alt, ingen hæmninger overhovedet – dejligt. Selve konceptet med denne film fascinerer mig og jeg blev ret underholdt af nogle af instruktørernes syge tankegange og fantastiske ideer.
Dogfight (Marcel Sarmiento), Libido (Timo Tjahjanto – En af de mest foruroligende af alle kapitlerne), Removed (Srdjan Spasojevic), XXL (Xavier Gens) og Youngbuck (Jason Eisener) var dem dem der klarede sig bedst efter min mening. Modellervoks stop-motion kapitlet med titlen Toilet (Lee Hardcastle – Vinderen af konkurrencen) var yderst bemærkelsesværdigt, sammen med kapitlet Quack, hvor Adam Wingard og Simon Barrett bruger The ABC's of Death konceptet til selve kapitlet.
Udover de gode, der desværre hurtigt kan overskygge de andre kapitler, så er der også dem hvor jeg står af og forstår intet af, heriblandt Fart (Noboru Iguchi), japansk kapitel om piger der prutter! Men okay… The ABC's of Death er kort sagt en skør fortælling ligesom Go the Fuck to Sleep, men du skal nok ikke vise denne fortælling som en godnat historie til dine unger.
Ligesom Little Deaths (2011) og V/H/S (2012) kan jeg også varmt anbefale dette forfriskende gys.
 Filmen