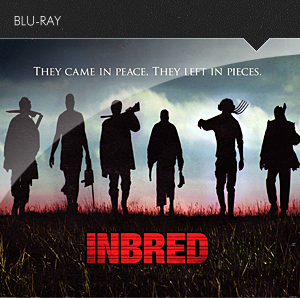 En gruppe utilpassede unge bliver sendt til en lille by i det nordlige England for at lære at begå sig inden for samfundets normer. De unge ender dog hurtigt på den lokale pub, hvor de stifter bekendtskab med lokalbefolkningen – en samling ækle og indavlede bæster, der har appetit på meget mere end den sædvanlige fyraftensøl. – Another World Entertainment
Inbred, en britisk hillbilly horror, der herhjemme er udgivet på DVD og Blu-ray af Another World Entertainment, som er instrueret og skrevet af Alex Chandon. Historien og titlen sagde mig intet og virkede som en typisk b-film der ikke ville være værd at spilde tid på. I kurven havnede filmen, for jeg blev alligevel interesseret i filmen, da jeg læste mere om den. Hjem og i maskinen kom den – og jeg har ikke fortrudt købet.
Fantastisk billedkvalitet og masser af special effekts guf!
RED kameraer blev brugt til at filme Inbred, hvilken giver filmen en fantastisk kvalitet og lyden er heller ikke værst. Det er en lille film, det kan ses på skuespillerne og budgettet, men skal ikke nødvendigt betyde at det er skidt, for præstationerne er over middel end det man er vant til at se i disse type film. Her vil jeg fremhæve Seamus O'Neill der spiller Jim, pubejeren af The Dirty Hole, der kun servere alkohol, lunken lemonade og behåret hjemmelavet flæskesvær – mums!
Det bedste er ikke nævnt endnu, grunden til jeg ville se Inbred, var specialeffekterne og make-up'en der efter signende skulle være i topklasse og vundet en del priser på den konto. Her må jeg erklær mig enig. Holdet bag Inbred har lavet en fantastisk arbejde og det ser underholdende godt ud. Faktisk vil jeg sige Inbred er en lille fin FX-perle, som enhver horror- og goreelsker vil elske at eje og have i deres filmhylde.
Inbred er sort humor horror med et glimt i øjet og hyldest til klassikere som The Texas Chain Saw Massacre, Bad Taste, Straw Dogs, The Evil Dead og ikke-gyseren Deliverance. Det kan vi takke holdet bag filmen for deres forkærlighed til film. Jeg var underholdt, hvis det ikke var fordi plottet var så tyndt, så ville den hive par stjerner ekstra hjem, men en film du bør se.
Yes, ekstramateriale!
Ekstramaterialerne på blu-rayen, The Making of Inbred,  Alex Chandon's Inbred Diary og Neil Keenan's Making of Inbred, er en god bagom underholding. Resten (2 Deleted Scenes og Slideshow) er ligegyldigt og kedeligt fyld, men det andet er med til retfærdiggøre købet.
Spilletid: 98 min.
Lydformat: DTS-HD Master Audio 5.1 Engelsk
Billedformat: 1080p / 2.35:1
Undertekster: Dansk, Svensk, Norsk, Finsk
Land: England
Studie: New Flesh Films
Udgiver: Another World Entertainment
Filmen



Billede



Lyd



Ekstramateriale